The Best
South Florida

Commercial Moving Company
Get A Quote Online & SAVE  $150  On Your Move
The Best
South Florida

Commercial Moving Company
Get A Quote Online &
SAVE
$150
On Your Move
"*" indicates required fields
Professional Commercial Moving Services
Professional Commercial Moving Services
Safebound Moving & Storage is the best business moving company because we understand the needs of owners and managers. Successful, stress-free business relocations require a top-notch moving team to handle every aspect of your move. Since we opened our doors several years ago, we've served companies in and around West Palm Beach and Florida.
We have expert office movers capable of moving any office equipment. We also have logistics experts to relocate your warehouse or ready your retail store for business. Our full service relocations are efficient and safe because time is money when running a company. We also offer storage services for seasonal installations and product storage.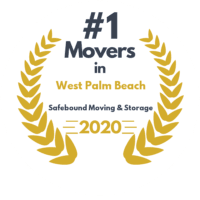 Your Trusted Office Movers
Your Trusted Office Movers
We have the experience, equipment, and dedication to make your next office move easier and quicker than you ever thought possible. We understand how crucial it is to minimize downtime during an office relocation. You don't want to lose any potential profit, and your employees don't want their hours cut short. With efficient furniture installation, professional equipment handling, and helpful customer service, we're one of the best in the commercial moving business. When moving your office furniture and equipment, our office movers are the ones to trust.
The Best in Retail Moving
The Best in Retail Moving
We have the moving experience to make your retail move quick and easy. When running a store, it's essential to be as accessible as possible to your customers. When you decide to move your retail store, you might have to close your doors for days or weeks. That's not the case when you move with Safebound Moving & Storage. We're one of the most efficient retail store movers in South Florida. We can have your retail store back up and running before you know it.
Warehouse Relocation Services
Warehouse Relocation Services
At Safebound, we have top-of-the-line equipment, expert moving consultants, and warehouse movers to make a massive task seem like another day in the office. Relocating a warehouse requires the kind of expertise you can find at Safebound Moving & Storage. Our logistics teams and professionally trained movers have the skills to coordinate, plan, and execute the move flawlessly. Our in-house moving professionals are unmatched in guiding your company through a major warehouse move and providing you with all short and long-term storage solutions.