Trusted
Local Movers

in South Florida
Get A Quote Online & SAVE  $150  On Your Move
The Best Local Moving Company in South Florida
The Best Local Moving Company in South Florida
Safebound Moving & Storage is an elite local moving company in West Palm Beach, FL. We offer a wide range of local move services to complete intrastate moves all over South Florida. Every local move starts with a one-on-one discussion with you. We will work closely with you to develop a comprehensive moving plan tailored to meet your needs.
This custom plan can include packing, loading, transporting, unloading, and unpacking. At your request, we can also provide full-service storage. Whichever relocation services you choose, the safety of your belongings remains our number one priority throughout the entire moving process. When it comes to local moving, you'll find no moving company in South Florida that does it better than Safebound Moving & Storage!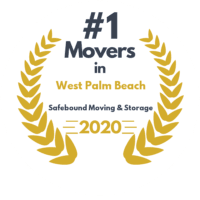 We go above and beyond with our local moving services. Imagine you had to move, but all you had to do was give instructions – literally. With our full-service moves, we'll load and unload all the heavy furniture onto and off of our moving trucks, as well as set up your home theatre system, provide clean-up services, and more. There is no better feeling than getting to a new house and it already feel like a home.
Professional Moving Teams
Professional Moving Teams
The stress-free moving services offered by Safebound Moving & Storage are designed to meet your needs and are accessible around the clock. Move with us, and we will provide you with the true value of your time and money. Every one of our moving teams takes extra care of clients' belongings, from packing to unpacking the moving boxes for 100% damage-free delivery every time. You can also depend on us to complete your local move right on schedule. Our local Florida movers provide immediate, reliable, and budget-friendly services with no hidden charges.
Each region is different, and you'll find no one more familiar with moving in the South Florida region than our local movers. Before starting your local move in South Florida, we plan the best route for the transportation of your belongings. We will also work with you on a personal level to clearly understand every aspect of your moving needs to provide an accurate estimate. Regardless of the size of your move, our local movers are well-equipped to give you a quick and easy relocation on moving day.