Trusted
Long Distance

Moving Company
Get A Quote Online & SAVE  $150  On Your Move
Cross-Country Moving Services
At Safebound Moving & Storage, we specialize in tailoring and executing the perfect long distance move. Our family-owned moving company in West Palm Beach, Florida, provides long-distance moving, packing and unpacking, and full-service storage to residents and businesses. We complete moves in and out of Florida and throughout the United States.
Our movers and employees in our offices understand the stress of long-distance moves. That's why our goal is to make your move as stress-free as possible. We adhere to the highest standards which make us movers you can trust. Safety, dependability, and exceptional customer service are the core foundations upon which our company is built. We want our customers to have peace of mind and a hassle-free move.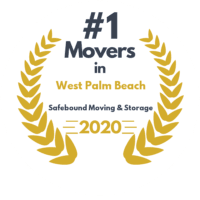 Safebound Moving & Storage serves customers across the country. From the Pacific to the Atlantic and from the Great Lakes to the Gulf of Mexico, we can get you where you want to go. Our long distance movers handle the logistical and physical demands of these moves from state to state. With extensive experience, you can trust our movers to get you, your family, or your business to the next town you call home.
The FMCSA licenses us to provide carrier services and abide by federal laws throughout all fifty states. Our passion is helping individuals and families start a new chapter in their lives. For your next major move, you can trust the professionals who have experience serving the entire country.
We Use Our Own Long-Distance Trucks
Our dedicated long distance moving service lets our customers trust that their belongings will be delivered safely and on time because we use our own moving trucks and crews. With dedicated moving, your belongings stay with the same moving truck and team throughout the trip. This greatly reduces the chances that any of your belongings are damaged or lost along the way.
Ultimately, we aim to provide a stress-free experience for our customers. Additionally, we offer auto transport to ship your vehicles. Truck driving may seem difficult, but maneuvering tractor trailers and car carriers are second nature to our professional drivers. We guarantee your vehicles and belongings will arrive safely. When you choose to move with Safebound, you choose to move with the pros.
Professional Interstate Movers
Our cross-country movers are trained to provide the best full-service move possible. On your moving date, the moving crew arrives prepared for the entire service. If you request packing services, they'll handle everything from start to finish. Our professional movers are experts at packing fine china, antique furniture, and fragile electronics. There's hardly anything they won't handle.
If you need to store some of your belongings, we offer short- and long-term storage options. Your belongings will be kept safe until you request delivery or shipment. When it comes to long-distance moving, nobody does it better than the expert movers at Safebound Moving & Storage.