Packing and Unpacking Services

for Your Next Move
Get A Quote Online & SAVE  $150  On Your Move
Packing and Unpacking Services

for Your Next Move
Get A Quote Online &
SAVE
$150
On Your Move
"*" indicates required fields
Packing and Moving Services
Packing and Moving Services
Safebound Moving & Storage specializes in providing effortless relocations. Many customers come to us to make the moving process as convenient as possible. That is why our moving company in West Palm Beach offers time-saving packing services with our full packing services, partial packing, single item packing, and unpacking services. Don't waste your time or energy packing and unpacking. Once our moving crews arrive at your place, they will pack up your household or office space in just a few hours.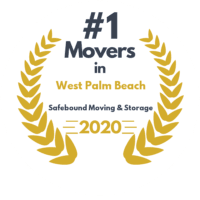 Custom Reliable Packing Materials
Custom Reliable Packing Materials
If you want to avoid going to multiple shops or online stores to find boxes and packing tape when to protect your belongings during your move, order everything you need from our full-service moving company. Our moving boxes, wardrobe boxes, bubble wrap, tape, and other packing materials are affordably priced and quickly delivered to you.
We also offer custom crating for fragile items that aren't suitable for standard moving boxes. It's always better to leave nothing up to chance when transporting your belongings, so enlist Safebound Moving & Storage to help you with your packing.
All Types of Moving Supplies and Boxes
All Types of Moving Supplies and Boxes
Since our moving crews prioritize safety, we use only high-quality packing supplies and moving equipment when handling our customer's items. We provide sturdy moving boxes in multiple sizes for clothes, utensils, and other small home accessories. For larger items like furniture and appliances, we use industry-standard packing supplies like bubble wrap, moving blankets, and stretch wrap for maximum protection. When you schedule packing services, your movers will bring all the necessary materials and equipment to load up all your things into our moving trucks safely.
Professional Packers To Save You Time
Professional Packers To Save You Time
For any move, packing up all your belongings is typically the step that takes the longest to complete. If you would rather skip the time-consuming packing process, book our professional packing services. We will deliver the packing and unpacking services you need for an effortless moving experience on move day.
Whether you need just your furniture and larger items packed and loaded, or your entire household packed up, the moving crews at Safebound Moving & Storage can give you the relocation you want. We deliver both packing and unpacking services and will take a detailed inventory of all your items to prevent any losses.