The Best
Moving and Storage Solutions

in South Florida
Get A Quote Online & SAVE  $150  On Your Move
The Best
Moving and Storage Solutions

in South Florida
Get A Quote Online &
SAVE
$150
On Your Move
"*" indicates required fields
We Offer Full-Service Storage
We Offer Full-Service Storage
As a full-service moving and storage company, we can store belongings for clients in our multiple facilities across West Palm Beach and South Florida. Other moving companies don't provide the same level of attentiveness and service value when it comes to local moving and storage. We offer full-service moving that includes packing and loading as well as storage.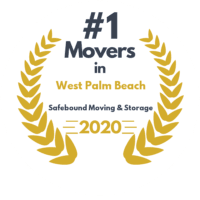 Temporary and Long-Term Storage
Temporary and Long-Term Storage
We offer temporary and permanent storage options to fit all of your moving and storage needs. Whether you are relocating or need a place to store belongings, our family-owned moving company in Palm Beach County has the warehouse facility to meet your needs.
After noticing many of our clients needed storage during their relocations, Safebound Moving & Storage started offering storage solutions combined with our top-rated moving packages and excellent customer service. Take advantage of our full-service storage services and you won't have to stress over truck rentals or late fees.
Safe and Secure Warehouses
Safe and Secure Warehouses
Safebound Moving & Storage is committed to the safety of clients' belongings, whether in transit or in storage. When your belongings are in our storage space, you can rest easy knowing our state-of-the-art warehouse facility is designed for maximum security. High-definition CCTV cameras and round-the-clock security personnel ensure your items stay safe and guarded.
Our moving company delivers stress-free moving experiences to all our residential and commercial clients, including providing convenient full-service storage. Our team are professionally trained to provide a seamless experience in addition to safe and secured storage services.
Clean and Sturdy Containers
Clean and Sturdy Containers
Offering full-service storage, we will pick up your belongings and bring them into storage. One of our moving crews will bring a secure and spacious portable storage container to your home, fill it, and transport it to our clean and safe storage facility. We can do the same if your belongings are in a storage unit.
Once your container is at our warehouse, it can stay there for as long as you want. At your request, we can return your belongings at any time during or after the moving process. If you want your items brought to your new home, our local movers in West Palm Beach will take them out from storage and deliver them to you – even if you're moving cross country.