The Best
Moving Company

From Florida
Get A Quote Online & SAVE  $150  On Your Move
The Best
Moving Company

In Florida
"Safe With Safebound"
Hear what our customers have to say about our professional movers.
Our expertise at Safebound Moving & Storage lies in customizing and delivering the perfect moving experience. Our premium moving company prioritizes providing you and your loved ones with a stress-free move. What sets us apart from other moving companies is our range of moving and storage services, all backed by knowledgeable specialists and exemplary customer service.
When you're ready to move, reach out to us for a moving quote. On moving day, our proficient furniture movers will handle the heavy lifting for you. And in case you have any questions, our moving experts are just a call away to guide you through the process. We take pride in ensuring all our customers have a worry-free move with Safebound!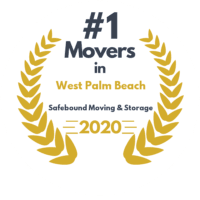 Safebound Moving & Storage is a trusted company because of our years of experience and reputation in the moving industry. Our team consists of skilled and knowledgeable specialists who have honed their craft over many years, allowing us to deliver exceptional moving services.
We are a reputable moving company with a track record of satisfied customers, thanks to our dedication to providing a stress-free and smooth moving experience. In addition, we prioritize the safety and security of our customers' belongings, which is why we conduct thorough background checks on all our staff members. You can trust Safebound Moving & Storage to handle your move with the utmost care and professionalism.
At Safebound, our dedicated moving service ensures that your belongings remain in our care from start to finish, whether it's a local or long-distance move. This exceptional service is the hallmark of our commitment to go the extra mile for our customers. Unlike many other movers who cannot afford the time and effort required to provide this level of care, we prioritize exceptional customer service.
We understand the challenges of long-distance moves and the fears that come with them. That's why our dedicated moving service ensures that your belongings never switch hands, drastically reducing the chances of anything going wrong during the move. With our dedicated service, you can enjoy more peace of mind, knowing that your belongings are in good hands.
At our moving company, we pride ourselves on our team of professionally trained moving experts with years of experience. We carefully vet and train each employee to ensure that they meet our incredibly high standards of moving practices. This guarantees that as our customer, you can have peace of mind knowing that your belongings are being handled by true experts.
Our team of experts places safety, efficiency, and customer satisfaction as their top priorities. Unlike some companies in the moving industry that rely on a one-size-fits-all approach, we prioritize meeting the unique needs of our customers while maintaining our standard of excellence. This approach results in a seamless move for all parties involved.
Based In West Palm Beach – FL Serving All Of Florida
From our West Palm Beach headquarters, we provide professional moving services to all of South Florida. Many of our customers live in the cities that make up Palm Beach County and Martin County. Our movers are committed to providing first-rate services and seamless moving experiences to each of our clients. We also offer convenient storage solutions at our secure warehouse facilities.
The reach of our moving company in South Florida doesn't stop there. Our licensed long-distance and cross-country movers have relocated people living in states throughout the East Coast and the rest of the country. Whether you are moving out of Florida or you are moving to Florida from another state, Safebound Moving & Storage has the experience, expertise, and 5-start customer service you can rely on.